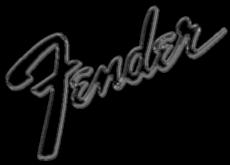 Robben Ford model
The Flame was based on the Esprit, and the Robben Ford model is based on the Flame. Robben Ford is a jazz guitarist, and this is his signature guitar model. It's actually built by the custom shop.
Type: Custom Robben Ford Signature guitar (year unknown)
Remarks: Built by Dennis Galuska. The colour is sea-foam green, the pickups are custom P-90's.
Above photo credits: This picture was scanned from the 2003 Fender Custom Shop Calendar. It's published by Ronnie Sellers Productions. Check out the bibliography for more of these pictures in the "Fender Custom Shop Guitar Gallery" book!
Type: Robben Ford Ultra FM (year unknown)
Serial #: Unknown
Remarks: This is a Custom Shop Masterbuilt series guitar, with antique sunburst finish, carved flame maple top, ebony fingerboard and special tone chambers, as well as chrome hardware.
Above photo credits: An Ebay auction
Please report dead links, possible copyright infringements or guitar-related info to the maintainer of these pages, Richard Karsmakers. You are also quite welcome to send in pictures (with relevant data) of guitars that are so far lacking above!