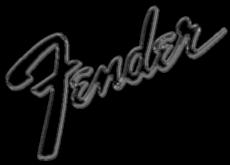 Electric XII
From 1965 to 1968, Fender produced the Electric XII, a guitar designed especially for the purpose of being a 12-string guitar. There are 12 individual string saddles in the bridge. It was notoriously difficult to tune, and instantly recognisable because of its 'hockey stick' headstock.
Type: 1965 Electric XII
Serial #: 108066
Remarks: This particular guitar is owned by Steve Vai and was used on his "Sex & Religion" and "Fire Garden" albums.
Above photo credits: The Official Steve Vai Web Site


Type: 1966 Electric XII
Serial #: Unknown
Remarks: None
Above photo credits: Found on Guitar Base
Please report dead links, possible copyright infringements or guitar-related info to the maintainer of these pages, Richard Karsmakers. You are also quite welcome to send in pictures (with relevant data) of guitars that are so far lacking above!